Spy apps are enormously useful programs. You can use them to keep an eye on your loved ones or employees through their smart device, for whatever reason. These apps are made to be discreet, meaning the target won't know you're watching.
Not all spy apps work well, however. Many lack key features, while some aren't all that well-hidden. Some are even viruses or malware in disguise. If you're in the market for spyware, you need to choose carefully.
Spyier is a well-known, popular phone spy app. You're likely to encounter it in your search for a suitable spy app. In this review, we take a look at this spy app and aim to answer the following questions:
● What sort of features does Spyier offer?
● Is it a true hidden solution?
● Is it easy-to-use?
● How much does it cost?
Spyier - An Introduction
Spyier is a top-rated phone monitoring app for iPhone and Android. It's often featured on major outlets online such as the New York Times, Mashable, BuzzFeed, and LifeWire.
The app generally has a positive reputation in the market. It's used by over a million people from 190+ countries. Users include parents trying to look out for their kids, employers tracking errant employees, and people in relationships keeping an eye on straying partners.
What sort of features can you expect from Spyier?
Spyier offers a competitive array of features. You'll know almost everything that happens on the target phone:
● Message reader: The app keeps track of all incoming and outgoing messages. This includes even the messages that get deleted from the phone. Messages are uploaded to a private, online account you can access from your browser.
● Social media tracker: Spyier allows you to keep an eye on a slew of popular social media apps. This includes Facebook, Twitter, Instagram, and much more. You can read messages, check uploads, view followers, and much more.
● Location tracker: With the location-tracking feature, you can see all the places the target visits. The app can log the exact address, the time of entry and exit, and even provide geographical coordinates.
● Web browser history: What websites does the person like to visit online? Spyier keeps track of the person's browser history, including details like website visit frequency, favorite sites, and site descriptions.
● Contacts book access: Who is the person talking to? You can view the person's whole address book and get details such a contact names, addresses, job descriptions, email addresses, social media info, and more.
● Media files download: Spyier can provide access to the target phone's saved photos and videos. You can see all the media files they've downloaded online, sent out, or received from someone else.
● SIM card info: With Spyier, you can keep an eye on the target's SIM card information. Track details like the carrier information, the SIM card numbers, and the phone number. You can choose to receive a notification if the number changes.
● Calendar events viewer: Spyier also provides access to the person's saved calendar. You can view upcoming events and read event descriptions. If there's something important happening, you'll know.
Where can you access all this data? Spyier has a web-based interface. That means it uploads data to an online private account periodically. You can access this interface from any PC or smartphone browser.
How do you install the Spyier app?
Setting up Spyier, in our experience, was easy. We'll show you how to do so below. You don't need any technical knowledge or special skills. You just need a computer or a mobile phone with a working internet connection.
Note that if you want to install Spyier on an Android device, you need to physically access the target device for a few minutes. If you want to install Spyier on an iOS device, however, you need it iCloud username and password.
Step 1: First, you need to sign up for an account on Spyier's official website. You'll need to use your email ID as the username. This is so you can receive setup instructions in your inbox.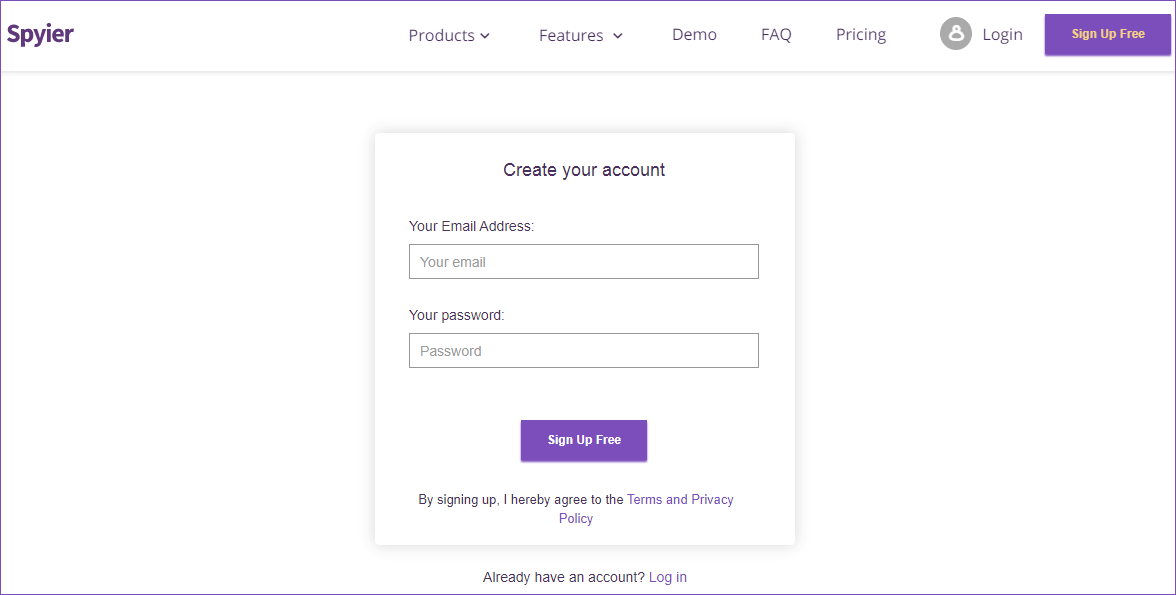 Step 2: Afterward, you'll be asked to buy a Spyier monthly subscription. If you want to monitor a single device, choose the Premium plan. If you want to monitor multiple devices, we recommend the Family or Corporate plans.
Step 3: The setup instructions will be sent to your email inbox. Open up the email you received and follow the on-screen instructions, starting with choosing iOS or Android as the target platform.
Installing Spyier on an iPhone or iPad? You won't need to access it physically. Just enter the iCloud credentials of the account linked to the device. Then wait for a few minutes until Spyier finishes syncing with the iPhone or iPad.
Installing Spyier on an Android smartphone or tablet? Download and install a 2MB app on the target device. Once that's done, you can hide the app. Then wait for a few minutes until Spyier syncs with the target device.
Step 4: That's all there is to it! You can now use Spyier from your web browser. Log in to your account with the Spyier username and password to access the dashboard.
The dashboard is Spyier's homescreen. It gives you an overview of what's happening on the target device. The various features of the app can be found in the selection menu to the left of the dashboard.
The dashboard is user-friendly and intuitive. You shouldn't have trouble navigating around it, no matter your technical skill level.
What's the USP of the Spyier spy app?
What makes Spyier different from the other spy apps in the market? The app is well-made, powerful, and easy-to-use. But, above all else, Spyier offers 2 features that allow it to stand out from the crowd:
1. Spyier is a legitimate no-rooting and no-jailbreak solution
As you may be aware, most spy apps in the market work only with rooted or jailbroken devices. Root and jailbreak can be complex to implement. Sometimes, trying to root or jailbreak a device leads to data loss or malware infections.
It's also very suspicious to the phone owner, not to mention you void the device warranty. Spyier happens to be one of the rare few apps capable of monitoring phones and tablets without the necessity of jailbreak. This makes using Spyier effortless and easy.
2. Spyier comes with a powerful keylogger
Additionally, Spyier includes a keylogger feature. This can be an invaluable tool for you. What's a keylogger? It's a tool that records all keystrokes made on a target device. These keystrokes are put in a log file and shared with you.
Why is this important? When the phone user types in their account credentials - whether on social media or emails - the information will be recorded with you. You can potentially gain access to all the target's online accounts!
How Stealthy is Spyier in reality?
Spyier is one of the stealthiest apps on the planet, from our tests. It's virtually impossible to detect on both Android and iOS. Why does this happen to be the case?
The Android version of Spyier is a tiny 2MB app. You download and install it on the target device you're looking to monitor. After you install it, you're given the option to hide the app. If you hide it the app icon disappears from the drawer and the installed apps list.
Spyier then runs in the background on the target phone invisibly. It doesn't slow down the phone or drain the battery noticeably, as is the problem with some apps. It's too small for that. All this makes the app very hard to detect.
The iOS version of Spyier is a fully web-based app. You don't need to download anything on the target iPhone or iPad. Instead of working with the iDevice directly, Spyier works with it indirectly through the linked iCloud account.
As the iOS version operates on your web-browser and works without physical software, it can't be detected at all.
Who Can Use Spyier?
Spyier is meant to be used by everyone. It's very easy to set up and get running. You don't need any technical skills at all, seeing as it's a root-free and jailbreak-free solution. The app can be conveniently set up from a smartphone or PC.
Once you install the app, you can access it discreetly from your smartphone or PC too, as long as you have an internet connection. The app will provide regular updates. The dashboard is intuitive and self-explanatory.
Can You Trust the App?
As Spyier is used actively by over a million people, the app is user-verified and trustworthy. It's virus-free and works as advertised. Also, the app isn't a phishing attempt, nor does it steal your personal information.
Further, Spyier enforces a strict privacy policy. The app won't store your personal information on a server where it can be stolen, nor can the app share your info without your permission. All in all, it's one of the safest spy apps in the market.
Is the App Affordable?
Finally, we come to the price. How much does Spyier cost? It turns out that the app is pretty affordable. You get access to over a dozen unique features for a small monthly fee. It's about as much as you pay for a small meal at the time of this writing.
Also, Spyier provides a discount if you purchase group subscriptions. It's one of the more affordable solutions in the market. Some spy apps with comparable features cost twice or even thrice as much as Spyier.
Conclusion - To Buy or Not to Buy?
We think Spyier is one of the best spy apps in the market right now, if not the best one. It offers industry-leading features and a hassle-free setup. The app is secure, easy-to-use, and convenient to access. You could do much worse than Spyier.
ⓒ 2021 TECHTIMES.com All rights reserved. Do not reproduce without permission.